Priya Vijayakumar
Senior Learning and Development Consultant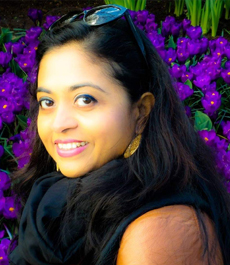 With varied experience spanning over 19 years in the financial services and hospitality industries, Priya brings a strong commercial outlook and a thorough understanding of the Middle Eastern market to the table.
She has led and managed Learning academies, teams of regionally dispersed workforce both in the training and business spheres and officiated as subject matter expert for various global and regional learning projects within one of the world's leading financial services organization based out of the UAE.
Her core expertise in the multiple areas of Learning and development (Performance management, Culture Change, Authentic Leadership,
Sales and service & Personal development) as well as Technical expertise within the spheres of Transaction, Retail and Commercial Banking gained through leading strategic global and regional projects to success, enable her to suggest a wide range of ideas to help your organization with its Learning requirements. She designs and delivers training in areas of Transaction Banking, Retail Banking, as well as a wide range of Personal development programmes. In addition, and in response to the current regulatory environment governing Banks, she has delivered multiple training interventions on the topics of Financial Crime Risk Awareness, Client Due Diligence procedures and Managing client conversations with Financial Crime Risk in mind.
Priya's track record of analyzing stakeholder requirements, proposing cost effective and innovative solutions combined with design and delivery of learning interventions which incorporate subject matter from leading experts in the respective fields have assisted teams to poise themselves on the fast track towards their goals.
Her demonstrated expertise in managing and leading diverse and geographically dispersed teams, as well as of conceptualizing and successfully launching National induction and graduate programmes, at multiple management levels stands testament to her expertise in the arena. Further her experience as a consultant to internal stakeholders on rolling out Talent management suites have enabled her to break ground in the people management sphere.
The following are a broad indication of the programme suite that Priya has designed and delivered.
Priya is an Associate of the Chartered Institute of Personnel and Development, United Kingdom holding a Diploma in Learning and Development practice. She holds a Bachelor degree in Corporate finance and Accounting and has completed Facilitator accreditation programmes from Hong Kong, UK and UAE. Further she is an alumni of the International Institute of Management development (IMD) Switzerland with a specialization in Organisational Learning and holds a Certificate in "Essential Management Skills for Emerging Leaders" from Harvard University, MA, USA. She has also completed the "Financial Crime Risk and Prevention" certification programme from the Indian Institute of Management, Bangalore, India and has been a column contributor on the Training Magazine Middle East.
Since 2013, Priya has been providing Learning consultancy services to organizations. This move comes off the back of her strong professional background in the field and her passion for working with and developing people, which she strongly believes are the greatest asset to any organization.  Priya currently officiates as key visiting faculty for the Emirates Institute of Banking and Financial studies, UAE. She has delivered learning interventions all around the MENA region as well as Hong Kong and the United Kingdom.