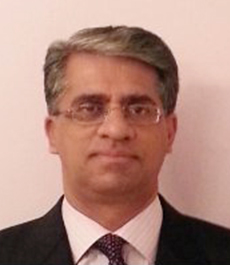 Rajan Balwani is an Accountant by qualification with 25 plus years of experience in the financial services industry in UAE/GCC/MENA.
This includes 18 years of Relationship Management experience in Corporate Banking and 4 years in Credit & Risk Training with a highly reputed global financial institution (bank) in Dubai. As a Relationship Manager, Rajan got an opportunity to work with mid-market and large corporate businesses as a part of his job profile which weighed heavily on analyzing finance needs of businesses and preparing detailed credit reports on the viability of lending to these business houses. These credit reports entailed a comprehensive Quantitative and Qualitative analysis of risks and relating to the businesses.
Rajan used the experience gained as a Relationship Manager in his next role as a Credit & Risk Trainer within the same institution to impart knowledge of the products and technical skills related to Corporate lending.
Since becoming independent in 2013, Rajan has continued to work with individuals, business owners and financial organizations to help them achieve financial leadership and excellence in credit risk management through practical ideas on business finance and financial and credit/risk training. Possessing excellent technical knowledge on an extensive range of commercial banking businesses and products, which combined with sound commercial orientation, communication and people skills, ensures delivery of effective results oriented learning. Rajan has a refreshing method of delivery which keeps the audience interested in the subject and also delivers the message effectively. He has delivered technical and product courses to the Corporate Banking audience on subjects such as:
Credit Technical Skills
Financial Statement Analysis
Credit Risk Management
Managing Problem Loans
Writing Credit Proposals
Specialised Structured Finance
Trade Finance
Project Finance
Mortgage Lending
Islamic Finance
Sales and Service Skills
Sales and Negotiation Skills
Relationship Management Skills
Compliance Skills
Anti-Money Laundering and Compliance
His work has taken him to deliver courses in the wider GCC and MENA region and also in Asia and South America, thus giving him an exposure to the various cultural and professional approaches to work. He has also completed trainer accreditation programmes from Hong Kong and UAE.
Through Credibiz, Rajan has been concentrating particularly on delivering Corporate Banking training and has established professional associations with established training providers in the UAE and the region. He has also undertaken bespoke training and learning consultancies for banks directly. Amongst the major names for which Rajan delivers training include HSBC Bank (MENA, Asia and Americas), Commercial Bank of Qatar, Qatar, Emirates NBD, Abu Dhabi Commercial Bank and National Bank of Abu Dhabi.